Six Top Trends for Big Data in 2017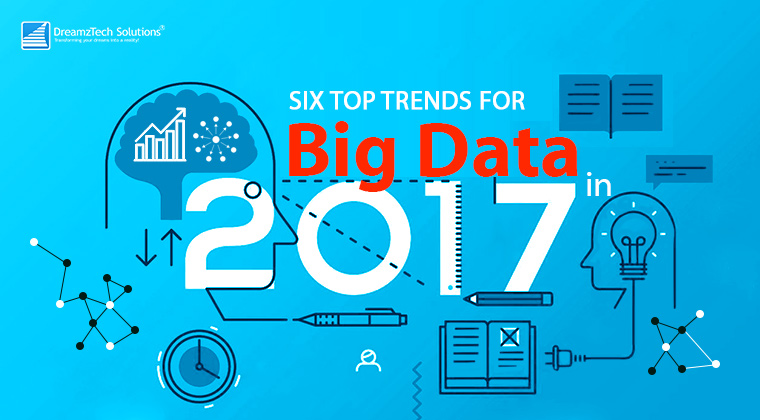 You can expect lots of surprises in 2017. The year is all about Big Data. You may expect the expected to happen this year. From Data Lakes to machine learning to artificial intelligence, 2017 is full of most alluring discoveries of all time. Hold your breath as I disclose the top six trends in Big Data that will be ruling the year's information technology chart.
Top six Big Data trends making news
1.Artificial Intelligence, Back with a Bang!
What is back in action? AI or Artificial Intelligence. Artificial Intelligence will remain the most-discussed mainstream topic this year. AI encompasses machine learning, neural networks, cognitive computing, and machine intelligence. No wonder artificial intelligence is a fresh trend. But if are still guessing why it is back in vogue, here is the answer- the three Vs: Variety, Volume, and Velocity. Service as well as product related companies need to collect and analyze huge piles of customer information of a regular basis. By doing so, they get clear and gleaning insights into the needs and wants of the customer and act accordingly.
Furthermore, they attain high level of consumer satisfaction and derive real value and worth from the data. In the coming years, this data will increase to levels that will result in shortage of just the right kind of talent. In other words, data analysts, would not be able to handle all the tasks by themselves. Here is where AI comes in picture. this intelligent layer will tackle the most complex analytical tasks with accuracy in no time. AI will compensate shortage of resources. AI will be see managing Workforce shortage in the coming years.
2. Big Data for Competitive Advantage and Governance
Everything these days depends on data. The wealth of information that organizations handle every day is unbelievable. The data is primarily of partners and customers. In other words, the data is highly sensitive and confidential. Every company is transforming to data driven leaders. Every organization needs proper management and governance of data so that data leaks, data damages, and data breeches can be avoided.
Only by following compliance rules and security laws, businesses can improve security and use of data. 2017 will see governance of regulated use cases. In other words, with data lineage and quality, regulatory bodies can effectively track and report data right from the source via all transformations. Non-regulatory use cases will need real-time data tracking for effective results. Therefore, a mix of structured as well as unstructured yields will be good for non-regulatory cases
3. Data Lakes for accessing data
The 'build it and they will come' approach will rule 2017. The 'business approach' will soon become a thing of the past. The orientation of use cases will drive the combination of operations and analytics. Many of you might still be wondering what a data lake is. A fully-governed, centralized, and secure place where you can collect all the data of a business is a data lake. Furthermore, every department can access necessary data anytime, anywhere. Frequent access to data may result in making the lake a warehouse that cannot address all the operational and real-time case requirements.
The real world is much fast and needs quick and accurate analytical as well as operational processing. 2017 will witness increase in value of these data lakes as they address all the cases with the help of agile platform. Businesses can effectively handle cases spanning from front office operations to back office analytics. In other words, data agility will help businesses attain long term value. This will be made possible by architecting a data lake that pushes the boundaries of data warehouse beyond an 'just asking questions' approach.
4. Data Agility- the new model
It is very well seen that software development has already become agile. Continuous delivery is the key to becoming agile. In 2017, we will see Data agility taking the front seat where analytic and processing models will evolve to the level of agility. In other words, the businesses will comprehend data in context and act accordingly. This will act as the trump card for attaining a competitive advantage.
Data agility supports processes like global messaging, interactive analytics, batch analytics, database-based models, and file-based models. In other words, with data agility, a single instance of data will support broader range of processing as well as analytics models.
5. Blockchains for financial transformation
It is a protocol that is globally distributed and will change the way data is stored or transaction is processed. Blockchain is a global ledger that runs on computer systems distributed worldwide. Furthermore, anyone can observe and watch the chains and store the transactions in several blocks. All the blocks are interconnected as each block reflects to the one preceding it. These blocks are stamped on the basis of time. Therefore, the user can alter the data when he wants.
No one can hack Blockchains ever as everyone can see the entire blockchain. From cost savings to satisfied customers to competitive advantage, blockchains will impact financial services with broad implications.
6. Machine learning and microservices
2017 will mark the beginning in integration of microservices and machine learning. Previously fast data integrations were applied on narrow bands of streaming data while deploying microservices. In 2017, there will be a shift from lightweight services to stateful applications that influence big data. With the incorporation of Machine learning things will change. In other words, we will see improvement in comprehending new streaming data by using large quantities of historical data.
These are some of the big data trends that will surely make a buzz in the field of information technology this year. If you have some more trends that I might have missed on, feel free to add them in the comment box below.