CMMS Trends: The Future of CMMS in 2019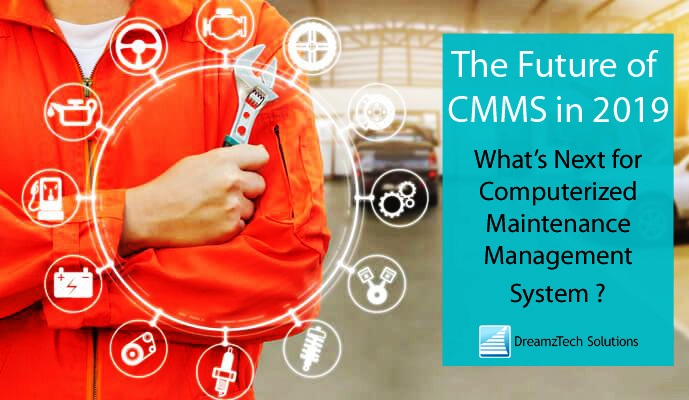 2019, as well as the future of, CMMS,  is surely Digital. The recent transformations of the industry have introduced resounding changes to the domain of CMMS. So much so, that entire new dimensions of efficient and productive solutions to management are being devised as a result of the growing adoption of CMMS (also called maintenance software). Dominant trends are shaping the impact ability of CMMS – Cloud computing, Enterprise-wide integration and IoT, Mobile Solutions, Configurability and Usability solutions. According to the Fiix Score survey, Over 46% of respondents use maintenance software to manage their operation and only 18% use pen and paper or work boards. 
The full form of CMMS is Computer Maintenance Management Systems. Another type of maintenance form software is Enterprise Asset Management or EAM. Though typically considered to be less comprehensive in its offerings and focuses almost solely on maintenance, whereas EAM software offers a broader range of asset management functions. The numbers tell us more than we need to know about the mainstream adoption of CMMS worldwide – 
Artificial Intelligence and the Internet-of-Things are going to have a significant impact on the future of CMMS.

53% of facilities make use of CMMS for maintenance activities.

The main barriers to CMMS software adoption are cost and culture of technological resistance. Having said that, Internet 4.0 and the strong emphasis on increased efficiency, are reducing the impact these barriers with each passing year. 

CMMS and EAM are giving way to a new form of asset management called APM.

Industry 4.0 is introducing disruptions of industry, with improvements in productivity and efficiency in almost every department. To remain competitive in the coming years, organizations utilizing CMMS as well as the people providing CMMS assistance will need to have an adaptive and innovative mindset.
The future to CMMS: More of IoT, Machine Learning, API and Mobility 
Integrating maintenance with the organization's technological ecosystem is not an entirely new concept, but the hi-tech systems developed recently are! Efficiency is the name of the game, and perhaps the most significant trend with CMMS is the massive rise in the levels of its adoption. And not just implementing them, but optimizing such systems would concern for maintenance professionals. 
A typical CMMS system would analyze data that has been gathered by sensors. These sensors interact with other assets and also humans, and fetch data for computers to process. The management software then issues predictive algorithms and patterns capable of assisting the decision-making process. A trained and competent workforce would be responsible for creating predictive maintenance schedules, thus optimizing the entire production cycle. Benefits of which are mentioned in further sections. After going through a basic outline of how CMMS operate, the time is perfect for introducing the game-changer for CMMS – Internet of Things (IoT). The inter-connectivity of IoT plays a crucial role in this process and connects machines with machines and machines with humans. And for starters, one way of optimizing CMMS is by extending current connectivity technology and making them even smarter. Here's what's on the horizon for CMMS users in the months to come: 
Internet of Things

extends the capabilities of CMMS beyond computers and mobile devices, from where these management softwares are accessed. Powered with sensing devices and layers of software, IoT makes it possible for the CMMS to talk to equipment and record relevant data regarding its functioning.  

Machine Learning (ML)

is the X-factor for unleashing the real power of CMMS. This where maintenance managers can make their move from preventive maintenance and towards predictive maintenance. By using the data gathered from equipment and Artificial Intelligence, the CMMS would automatically make adjustments to the maintenance schedules.

Advanced protocols in the form of

Application Programming Interface (API)

make it possible for different programs to interface and communicate with each other. In addition to API adds another level of security when importing data, on top of streamlining supply orders, inventory control, other maintenance operations,

Mobility

in the form of mobile access of CMMS is possible via integrated features, increasingly available on mobile device operating systems these days. These features would improve access communications by making them more straightforward and more efficient. 
Real-time data is essential for scheduling preventive maintenance with accuracy, and also for improved repair versus replace decisions for crucial assets. By pushing the envelope on Internet connectivity, CMMS will have the ability to extend its capabilities to added devices, programs and equipment, making it possible to integrate company functions into computer-based systems. The results will be even greater efficiency as seen by reduced labour utilization and costs. 
Applications of CMMS 
Till a few years ago, scheduling maintenance and creating work orders was the norm everywhere, because for two reasons. One was the lack of technology and the other, the workforce ideology – typically that of a reactionary nature instead of pro-activity. 
However, maintenance professionals from the past few years have become increasingly aware of the benefits that Industry 4.0 has for integrating technology with the maintenance infrastructure. As per the survey by Fiix, a massive 75% of maintenance professionals responded by saying that they use preventive maintenance daily as the primary maintenance strategy. Predictive maintenance makes predictions based on churning numbers. They can tell the time to maintenance professionals for taking necessary action and ensuring an asset failure or other similar issues don't occur at all. And for maintenance professionals, the evolution from a reactive-first environment to a more predictive and preventive is half the battle won. The other being' cost' will inevitably come down as commercialization and investments in the market for CMMS take place. 
An example of how CMMS performs better than manual – An instance where a boiler when it reaches a specific vibrational frequency and temperature is known to cause issues. Under manual maintenance systems, the boiler would first reach its failure point and only then would a work order created as a reaction. The problem was not detected ahead of time. Thus it was not a predictive system. Under optimized CMMS with IoT, maintenance managers can attach a small device to the boiler to monitor its temperature and vibration. When readings hit a value/level, a work order can be created within the CMMS. And on top of this, Machine Learning would make adjustments to the scheduled maintenance as and when needed. This would save the cost of asset replacement and reduce the odds of asset failure, translating into economic returns of the most straightforward manner. 
The future of CMMS will have many innovative ways to decrease downtime and maintenance costs. And for maintenance managers, CMMS is the obvious choice considering the cost of IoT devices (a couple of hundred dollars) and the cost of significant damage to an asset (thousands of dollars). By simplifying and improving the decision-making process, such as that of equipment replacement in the above example, businesses can reduce overall costs by taking advantage of automation in different business aspects. 
The benefits to an organization with having an optimized, next-gen CMMS –
Reduce the costs of maintenance

Reduce asset downtime

Reduce the chances of asset failure

Improve the overall quality and safety

Optimize the performance of equipment

Prolonging equipment life cycle

Promote proactive over the currently existing reactionary way of working

Improve the organization's communication flow

Improve human-machine communication and collaboration

Increase production efficiency

Enhance supply chain management 

Improve overall economic returns.
Businesses of all sizes, across all industries, will realize the benefits of having their CMMS and IoT devices working together. More and more facilities will integrate IoT devices with their CMMS to prevent disasters and downtime. And as Industry 4.0 powered by AI grows bigger each day, it is in the process of irreversibly changing the way machines are collecting and interpreting data. Transforming the manufacturing plants operating these days into smart factories of the future. Agile manufacturing strategies equipped with the latest machinery and tools have improved the overall efficiency of better decisions, improved solutions and more significant customer support.
Considering the above advantages and a host of other benefits, it is inevitable that the majority of companies would adopt CMMS. This will be a direct result of the increasing number of organizations switching to cloud software nowadays. And this stems out of the fact that cloud software has become dramatically more comfortable to use and drastically easier to implement. There is a rising number of instances of IoT and CMMS integration within companies. Providing instant access to actual equipment-run-time data against expected useful life data, with the data historical repair costs versus replacement costs, would only result in improvements of accuracy and efficiency.