5 Things We Need To Know Before Designing Your Website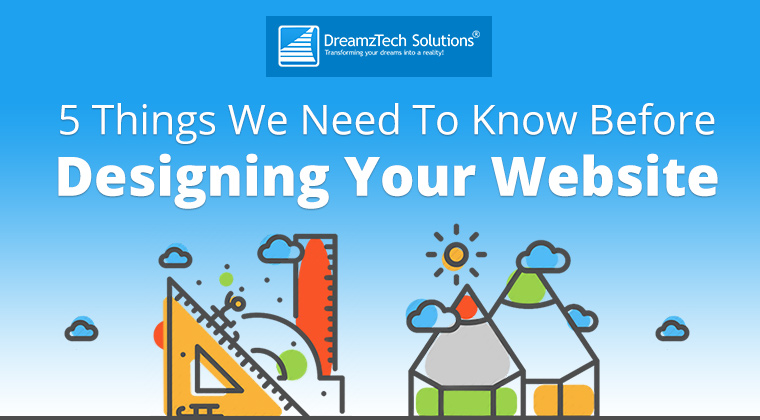 Business must consider their websites as the tool to the outer world. The tool that can help promote sales. It is the only entity that works 24 hours a day round the year. Websites are assets to your company. Without any leaves, they make sure you get customers even on holidays. Thus, it is very important to create a website that is excellent and effective in representing your company. Businesses should highlight their services and the products that they offer. By doing so the viewers find it creative and informative at the same time. Designing a website may seem easy but it involves a lot of hard work and research to make it enticing.
Here are 5 things that we need to know before designing your website:
It is the fundamental thing that any business must be clear about before even thinking about designing a website. The businesses must analyze the actual purpose of the website. Thereupon they must plan the website design and web development. If the website concentrates on generating sale, the business must use designs to attract visitors. for instance they can try looking for eye-catching and attention-grabbing web designs. if the website focuses on creating awareness, the business must consider creating a website that is informative and create credibility. If the main aim is to create an ecommerce portal, the business must make sure to offer as much information on products and services as they can.
The content writer must write  content in the most logical, crisp, clear, brief, and stylish manner. Moreover, they must also properly organize product and services descriptions, everything about the company, and contact details. The visitors must find the content interesting as it will help in improving the average time spent by the users and minimize exit rate and bounce rate.  Also, update the content regularly so that your website stays in the top positions in search engine rankings. This is a good search engine optimization strategy.
When thinking about website development, it is very important to plan on the platform that the developers intend to use. If you have a sales-oriented website, you must consider using CMS platforms. Content management system ensures effective management of work. Be it adding a new product or adding a new offer, with CMS everything is a click away. CMS platforms like PHP, Ruby on Rails, Python, Java, and JavaScript are most widely used.
It is very important that you have a through planning of marketing your newly created website. If you plan to opt for outsourcing the marketing process it is one thing but if you plan to do it yourself you must know all about SEO, PPC, SMM and other online marketing strategies. Businesses must realize that traffic never reaches instantly to the websites that are new. To create a base of potential customers, a lot needs to be done. From Google Keywords to Rich and meaningful content, everything needs to be optimized. By listing the URL in search engines such as Google and Yahoo, you improve your chances of visibility.
Search Engine Optimization strategies like landing pages' inclusion, broken backlink removal, popular keywords addition, unique content creation, image insertion and much more can help in making your website top rankers in search engine. Also by social media marketing and social sharing, your website gains a lot of online presence and customer base that is helpful for conversions.
Competitors and customers
This is the final point that you must know all about your customers and rivals. A good website development caters to needs, problems, and expectation of the customers. The businesses must analyze the designs that their competitors use. When in the same industry, the websites of the businesses also tend to look similar. The trick to improve the visibility of your website is to create a website that has competitive edge over others in the market.
Website designing and development guarantees a better online presence for your business. By making the website search-engine friendly and user-friendly you can do wonders. Also, apply Search Engine Optimization strategies for creating a unique and engaging website.